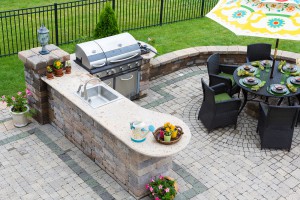 Most people know that the huge home improvement stores are not cheap. In fact, over the years the cost of their materials continues to rise making it harder for customers to afford materials for renovations and projects. Fortunately, there are other stores you can use that won't break your wallet. There are several advantages to using a stone fabricator over the traditional home improvement store.
No Middlemen
Professionals that work at smaller countertop businesses are able to purchase the materials that go into making granite countertops from the direct provider. This helps significantly reduce the costs, which in turn makes purchasing countertops more affordable for customers. Unlike their larger warehouse counterparts, they do not have firm prices.
Prices Are Malleable
One advantage to utilizing a store that specializes in countertops is that the prices are not firmly set. This is possible due to the fact that these smaller companies do not have to pay the hefty overhead costs that the larger home improvement stores do. Although these fabricators still have to pay staff, insurance and other variable costs, there are not as many costs compared to the bigger warehouse stores.
Other Pricing Discounts
Another potential benefit is that sometimes fabricators give price cuts to customers paying with cash or check. When a customer uses a credit card to pay for the particular stone such as marble countertop, the bank charges the vendor a fee. When it comes to the final purchase price, theses fees can be anywhere from three to nine percent. The percentage of prospective savings may not seem like a big deal, but saving several hundred dollars can make a difference depending on the size of your project.
By using these tips, you will be able to find the store that is most cost-effective for your budget. The most important thing to remember is that stone fabricators generally tend to sell cheaper countertops than the larger home improvement stores.