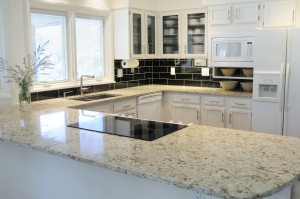 If you are considering granite countertops, there are several types for you to explore. It might seem a bit overwhelming having so many choices, but once you learn about them and how to best pair them up with the other elements of your kitchen, it makes your final decision a bit easier.
Bianco Romano
This type has a mixture of deep Bordeaux with cream, white and gray, making it a lighter stone with a cooler contrast. This works well with light colors up to a medium beige. Silver or brushed nickel hardware is a good choice because it continues the cool color theme.
Seafoam Green
This is a darker type of granite that features brown and gray undertones within an earthy green color. It has an almost geometric look to it. It is very versatile and can be paired up with wood of all colors, but tends to offer the best aesthetic with very dark woods and those with a medium warm tone.
Costa Esmeralda
If you are seeking more of a beach theme in your kitchen, granite countertops of this type are a solid option. The color ranges between blue and green, offering an ocean feel. It pairs up well with nickel fixtures and hardware, and cabinets that are a sandy white to very pale beige color.
Absolute Black
These are black and can be either polished or matte. Fixtures of all colors work well with this type. You also have a lot of flexibility with the cabinetry colors, but it is best to stick to lighter options to prevent too much darkness in the room.
These are just a few options when it comes to the types available for granite countertops. Think about the overall look that you are going for in your kitchen and find the choice that best meets your needs. Once you decide which one is ideal for your theme, ensure that it is professionally installed for optimal function and aesthetic.