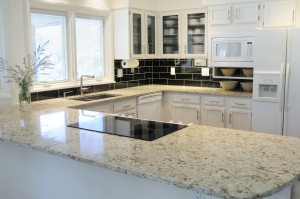 Marble countertops are beautiful and add a touch of class to almost any home. Unfortunately, marble has a bad name when it comes to the level of maintenance required to retain its beauty. Hopefully, some of those myths can be dispelled with a little bit more information about the formation and maintenance of marble.
Marble is formed under the surface of the earth when limestone is exposed to extreme heat and pressure. As the stone is heated and pressurized, the calcite recrystallizes making the stone harder and more durable. Because the stone is formed from limestone, which is naturally porous, some slabs of marble are also very porous causing them to stain more easily. Fortunately, if you are choosing the slab for a new countertop, there is a way to test your slab and help you pick one that will be less prone to staining. If you are working with a slab that has already been installed, there are sealers available to make your countertops more stain resistant.
Some of the damage done to marble countertops that is commonly called staining, is actually etching. Etching can be caused by acidic liquids, such as lemon juice or vinegar, being spilled on the countertop. When this happens there may be some discoloration or pocking that occurs making it look like the surface is stained. Fortunately, these spots are not actually stains and, with some polishing cream and a buffer, it is possible to re-shine the surface and bring it back to its original beauty.
While many manufacturers may tell you it is okay to set hot pots and pans on your marble countertops, it is still recommended by most installers that you use trivets or hot pads underneath your pans. This will not only prevent discoloration, it will also protect your countertops from scratches and other damage.
Marble is a beautiful stone that can add elegance and beauty to almost any home. When cared for properly, it can easily last a lifetime.