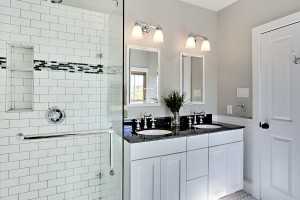 When engaging in bathroom remodeling, there are several fixtures that you have to replace, including your sink. Picking out a sink is something you want to put some time into. Not only do you want it to look good, but it should also serve the level of function that you need in this room.
Consider the Color
White is the most common color for bathroom sinks, but you can find them in just about any color available. For example, black and multicolored marble patterns are trending right now. They can provide a more luxurious and modern look to a bathroom if this is what you are going for. Pastel shades, especially pinks and blues, are also popular in bathrooms at this time, so these are colors that you might consider if you are wanting to avoid stark white.
Check the Material
Porcelain is one of the most popular options for sinks when you are doing bathroom remodeling. However, other materials have been becoming more common. For example, stainless steel and copper are trending right now. Just ensure that these have the right finish or seal to protect them.
Think About Mounting
Traditionally, sinks are mounted below the counter if they are part of one. However, putting them on top of it has become more common in the last few years. If you have a smaller bathroom, you might opt for a pedestal sink that stands alone to preserve space in this room. Overall, it depends on the look that you are going for. Pedestal and under mounted sinks are more traditional where top mounting is more modern.
Use this information to help in your bathroom remodeling pursuits. Make sure to first get an overall design idea together and then explore the various sinks that might work well with it. You should also think about your budget so that the sink that you choose is also affordable.