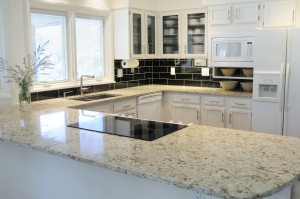 If you're remodeling your kitchen or bathroom, you may have questions about incorporating natural stone into your space. A stone fabrication company can help you make the best choice for your family's lifestyle, but it can also be helpful to have some basic knowledge to inform your decision.
Countertops
Natural stone countertops are a popular choice with modern homeowners. Their individual patterns can add a one-of-a-kind touch to a design while their sleek, yet natural look can match up with almost any interior style. Overall, stone is a very durable material for counters, but each type of stone varies in how it holds up to staining or scratches. Your stone fabrication professional can help you understand these differences.
Flooring
Stone can also be a great choice for floors. You will need to keep in mind each stone's individual characteristics, but overall it is a very durable material that generally only requires simple, regular cleaning to keep it looking great. It can also be very versatile in putting together a creative look by combining different textures and colors.
Types of Stone
There are many options available that fall under the umbrella of natural stone, with just a few listed here. They each have their own pros, cons and quirks, which you can discuss further with your stone fabrication company.
Granite's

high durability and low-maintenance factor are appealing to many homeowners.

Marble

tends to be a bit pricier and more high-maintenance than other stone choices, but for many clients, its natural beauty more than makes up for any cons.

Slate

is another very durable option that is resistant to stains. Scratches can occur but simply need to be buffed off.

Quartzite

can be a wonderful choice for homeowners looking for a good balance between beauty and durability.

Limestone

is a cost-effective option that makes for a unique, matte look.
Making Your Choice
Making a decision about using natural stone in your home can be a bit daunting due to the many options available. However, with some careful thought and input from a professional stone fabrication company, the durability and beauty of natural stone can be an asset to your home for years to come.