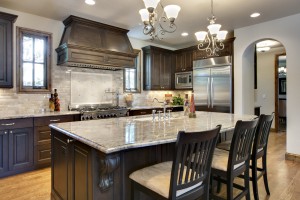 If you've ever found yourself admiring someone's beautiful granite and marble countertops, you don't have to let money get in the way of adopting that elegant look for your own kitchen. There are several advantages to getting closer to the source of your materials by shopping directly with a business specializing in stone fabrication, the process of finishing stone extracted from quarries.
Most fabricators are open to negotiating price when you offer terms that are mutually beneficial. For example, if you only need to cover a small space like a stand-alone sink or a shelf, you may be able to purchase leftover pieces at a lower cost. Conversely, if you require a large amount of stone for projects such as vanities or fireplaces in addition to your granite and marble countertops, the business you're providing might merit a discount as well. Some fabricators also offer savings for customers who pay cash because it saves them from paying processing fees associated with banks and credit card companies. They can then pass those savings on to you.
Buying from a stone fabrication business will provide you with a lower upfront price, too, because these business don't have any markups associated with middle men. Rather than having to pay a source who then has to pay the quarry, fabricators buy their stone directly, saving you big bucks. Also, in addition to converting raw stone into finished countertops, certain fabricators perform installations. Doing some "one-stop shopping" with a fabricator who both creates and installs countertops will usually save you money versus buying these services separately.
There's no reason to settle for less. Go ahead and get those gorgeous granite and marble countertops you've been drooling over by shopping directly from the source of stone fabrication. Your chic new kitchen will look just as sophisticated as the others but for a fraction of the price.