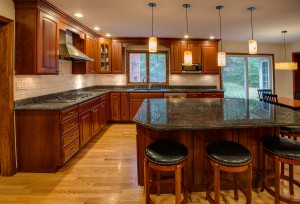 Marble countertops add a style and elegance that isn't often achieved by any other material. Marble is a natural stone that is formed in the earth when limestone is exposed to high temperature and pressure. Because of these extreme conditions, the calcite, which makes up the limestone, recrystallizes forming a harder stone, making it perfect for countertops.
Marble is known for the unique patterns and swirls that make it so easily recognizable. The veining in the stone is caused by impurities that become trapped during formation, creating one-of-a-kind patterns and coloring. While the most common colors are white stone with gray swirls, there are many more options ranging from black to blue and even red and purple. The coloring can be quite spectacular.
Because of the hardness of the stone and the way it was formed, marble countertops are quite heat resistant. So, there is no need to worry about setting hot pots and pans down on your counter. Marble is also ideal in the bathroom as you don't need to worry about damage done by curling irons or straighteners.
Unfortunately, because marble is made from limestone, it can be porous which may make it susceptible to staining. Because of this, it is important to test your countertop for absorbency and seal it if necessary. Many polished slabs are fairly resistant to absorption and may not need to be sealed. However, you likely don't want to learn that you should have sealed your countertop after it is too late and you are left with an unrepairable stain. Marble is easily etched by acids and other liquids, but can easily be repaired using polishing creams and buffers.
Marble countertops are an excellent choice for almost any kitchen that could use a touch of elegance. With the large variety of colors and patterns available, finding one that fits your style shouldn't be too difficult.