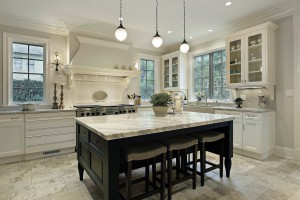 Talk to anyone going through a kitchen renovation and you will likely be inundated with information about countertops. Eventually, they'll ask Sthe weighty question, "What would you choose? Quartz or granite countertops?" Is there more to the choice than aesthetics?
Material matters. In this case, even though both quartz and granite look like stone, one is not – entirely. Granite countertops are created from a huge slab of natural stone quarried from locations worldwide. As natural stone, it is inherently unique; no two slabs are alike. While quartz countertops may also look like stone, they are, in fact, a manufactured product made up of 95 percent quartz and 5 percent resin. This makes them more uniform in design but provides more ability to customize.
These two materials bring different traits to the kitchen. As a beautiful natural stone, granite is porous. This means if something spills on your granite countertops it can be absorbed by the rock and leave a stain. There are ways to prevent this and protect your investment. Simply wiping up spills quickly and cleaning your countertops daily can keep them looking gorgeous. Granite should also be sealed on an annual basis. Though it is a very hard stone, because of its porous nature, if a heavy pot crashes down on it, the countertop may crack or chip.
Quartz, on the other hand, is nonporous, which makes it very stain and chip resistant, as well as simple to keep clean. However, leaving liquids like red wine on your quartz countertop for a long time can allow it to react with the resin and leave a blemish. Just like the granite, keeping spills wiped up can prevent this. You can also feel assured that when clean, this non-porous surface will be free of bacteria. Falling objects are also less likely to leave a mark.
No matter which product you choose, the beauty and originality of granite countertops or the care-free durability of quartz countertops, it may be wise to have it installed by professionals. They are trained to make sure it is level and properly in place, preventing future cracking and protecting your beautiful kitchen centerpiece.