The Best Stone For Kitchen Countertops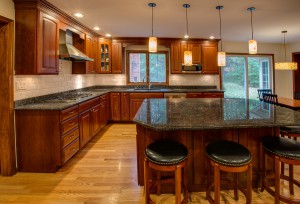 When many homeowners install new kitchen counters, their first choice is often natural stone for its beauty and resilience. However, the options for counters are varied—you may choose from granite countertops, marble countertops and natural stone of other varieties. With so many different types of stone available, sometime you need some advice to determine which kind will be best for your kitchen.
Granite is usually a good choice for kitchens because of its durability. It's scratch-resistant and withstands heat as well, allowing you to set down hot pots without worrying about damaging your counter. It also tends to be harder to stain, as the stone is naturally non-absorbent. If you do choose to seal your countertops for extra protection, professional sealing is generally recommended. Granite is a low-maintenance stone and can be cleaned easily with granite cleaning solution and a dishrag. It often can be pricy, ranging from $60 to $125 per square foot, depending on the slab you choose.
Marble countertops offer an elegant beauty, with slabs in a wide variety of colors. It is heat resistant as well and doesn't yellow when exposed to heat for long periods of time. While it is a natural stone, marble sometimes doesn't have the durability one might expect; it may scratch or chip from everyday use. Marble also is more porous and sometimes is damaged from contact with acidic liquids or harsh cleaners. For cleaning purposes, it's recommended that you use only a marble cleaning solution. This tends to be a more expensive option, with slabs starting around $125 per square foot.
Before you decide on either granite countertops or marble countertops, speak to a natural stone installer to learn more about each kind of stone. At E.W. Granite & Marble be we can help you evaluate what you're looking for in your countertops and guide you toward the stone that will best fit your kitchen.  Call us or click here for a quote.