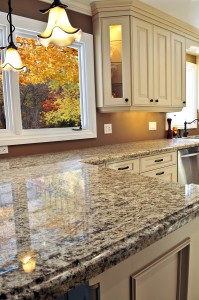 Kitchens are often deemed the heart of the home and generally serve as a focal point for family bonding time. Therefore, having a beautiful kitchen with stunning kitchen countertops to draw attention to the space is a dream for many. If a home kitchen renovation project is a possibility, why not look into the resounding force that is the granite stone as a countertop option? An often gorgeously-rendered choice of material, granite countertops can spruce up a kitchen space like no other option in the industry. Thankfully, there are a wide array of colors and designs to choose from with the ever-surprising granite stone, allowing anyone to find a suitable slab that's worth installing in your home's most sacred place.
Lovers of modern, neutral tones will adore the various grays and silvers to be seen in many forms of granite. A few types, aptly named Gray Mist Granite and Rocky Mountain Granite, are a dazzling combination of smoky greys blending together for both light and dark elements that cater to anyone's style. Those who enjoy their cooler colors could appreciate this style's finer elements, creating a glowing mist of a design across the kitchen countertops that leaves plenty of room for added accessories.
Meanwhile, those who drift towards the lighter side of decor in their kitchen may be inclined to choose White Storm Granite or Silver Cloud. These granite countertops are mostly white and airy, presenting a brighter hue for opening up smaller kitchen spaces. Their sheer, creamy hues are luxurious in the home, often depicted as a more regal color selection in today's modern setting. Looking ever clean and polished, whites and light greys mix well together to form enticing patterns.
The natural opulence of granite countertops can be a great addition to any home. Anyone hoping to renovate their kitchen space should consider this beautiful, natural material on their quest for new and improved kitchen countertops.